Posted on January 2, 2014 at 6:00 am
by Amber W.
Couldn't make our Tween 5 Ingredient Cooking program this summer? Don't worry; here are the kid approved recipes. And if you like these, check out our cookbooks for kids, tweens, and teens.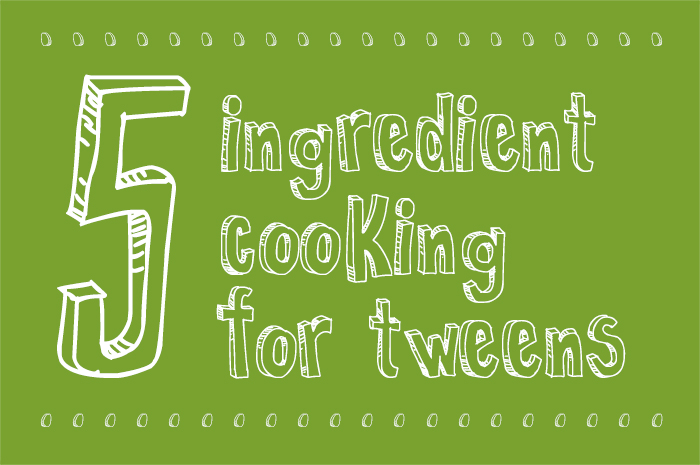 Salad Kabobs with Simple Balsamic Vinaigrette
Ingredients:
¼ cup Balsamic vinegar
¾ cup Olive Oil
Salt and pepper to taste
Minced garlic (optional)
Directions:
Put everything in a jar with a tight closed lid and shake. Will keep in the refrigerator for a couple of weeks.
Dairy-Free Pesto over Hot Noodles
Ingredients:
½ bunch Fresh basil leaves (about 3 cups lose)
½ cup Slivered, blanched, almonds (this means skinless)
2 Peeled, crushed garlic cloves
½ cup Extra virgin olive oil
1 Avocado, pitted and peeled
2 tbls Pasta water or water, for thinning
Salt and pepper to taste
1 tbls Lemon juice – a little tartness and will help keep the avocado from browning (optional)
Directions:
Combine everything in a food processor or blender and blend till smooth.
Toss with hot pasta to warm the sauce.
Chocolate Mousse Parfaits
What's great about this recipe (besides how easy it is!) is that you can change it up by using different pudding flavors, different fruits, or even as a frosting.
Ingredients:
1 3.9 oz box of instant chocolate pudding
1 8 oz tub of whipped topping (if frozen let thaw, should be soft)
1 ½ cups Milk
1 lb Sliced strawberries
10-20 Crushed Oreo cookies
Directions:
In a large bowl stir pudding mix and milk together.
When it becomes pudding, fold in whipped topping.
Assemble parfaits by layering mousse, strawberries, and cookies.
No Comments