Posted on December 9, 2013 at 6:00 am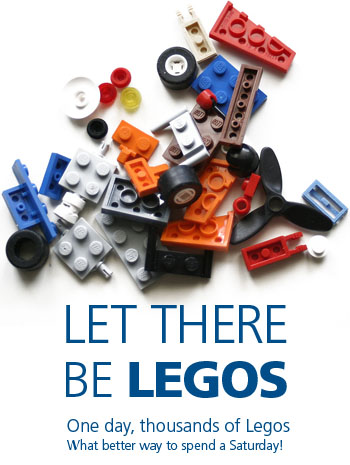 Mix fun and learning by spending a Saturday creating engineering feats at the library! SCLD is hosting a series of day-long Lego Build Days, one at each library throughout 2014. The library will provide thousands (current count is roughly 47,000 270+ pounds which is about 150,000 pieces!) of Lego pieces for kids and families to build.
Drop in for an hour or all day! Doors open at 10am and we'll finish up building by 5pm so that we have plenty of time to put the display together. Enjoy some snacks and build to your heart's content. Your awesome creations will be on display at that library for the duration of the month. Then, they will be dismantled, sorted, and shipped off to the next library for their Lego Build Day! Feel free to follow the Legos to as many building days as you like!
We are excited to offer this program as a wonderful opportunity to support of local education movements like STEM (science, technology, engineering and math) and engage our community members of all ages. A special thank you to the Friends of the Library and community members for all the generous donations of Legos that made this possible.
Mark your calendars now and plan to join us for this fun, family friendly event. All ages welcome, but children 6 and under should be accompanied by an adult.
CHENEY
Saturday, Jan 4, 10am-5pm
ARGONNE
Saturday, Feb 1, 10am-5pm
AIRWAY HEIGHTS
Saturday, Mar 1, 10am-5pm
FAIRFIELD
Saturday, Mar 1, 10am-5pm
OTIS ORCHARDS
Saturday, Apr 5, 10am-5pm
DEER PARK
Saturday, May 3, 10am-5pm
MORAN PRAIRIE
Saturday, Jun 7, 10am-5pm
MEDICAL LAKE
Saturday, Oct 4, 10am-5pm
NORTH SPOKANE
Saturday, Nov 1, 10am-5pm
SPOKANE VALLEY
Saturday, Dec 6, 10am-5pm
Tags: adults, events, kids, STEM, teens, tweens
14 Comments