Microsoft IT Academy
This program offers Washington State residents free access to Microsoft's online E-Learning program for technology training. Microsoft IT Academy offers training in a number of Microsoft products, including Word, Excel, and Access, as well as advanced topics such as programming and database development.
Getting Started with Microsoft IT Academy
Returning Users
For Beginners
Certification Test Centers
Getting Started with Microsoft IT Academy
When you're ready to start an E-Learning program, there are a couple of things you'll need to have, including:
A Microsoft email account. A Live, Hotmail, Outlook, or Xbox account will work. If you don't already have one, please click here to create one.
If you plan to access Microsoft IT Academy from home, you'll need a valid Spokane County Library District card the first time. If your card starts with 60922, or you don't have a card at all, don't worry! You can still use Microsoft IT Academy. You'll just need to come to any one of our ten locations, and we can help you get set up.
Once you have these items, you'll be ready to sign in as a first time-user by clicking here. (If you are a returning user, please click here.) Enter your Microsoft email (the Access code will already be filled in), and click Submit.
After confirming your enrollment has been activated, you'll need to click the green Continue box: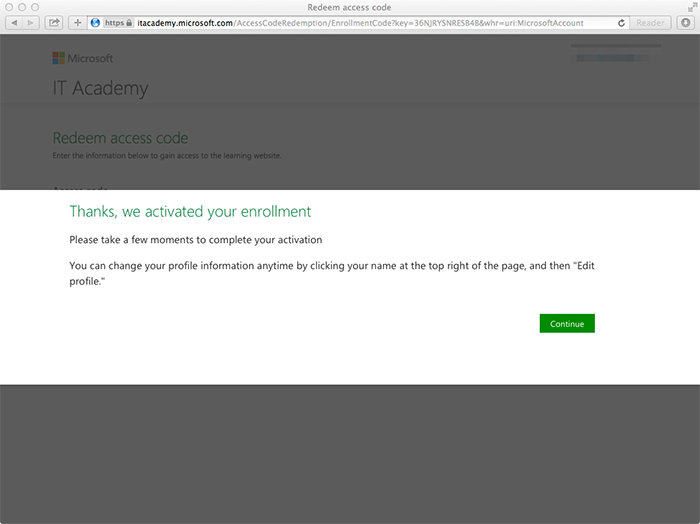 Then, click "I accept" to acknowledge Microsoft's user agreement: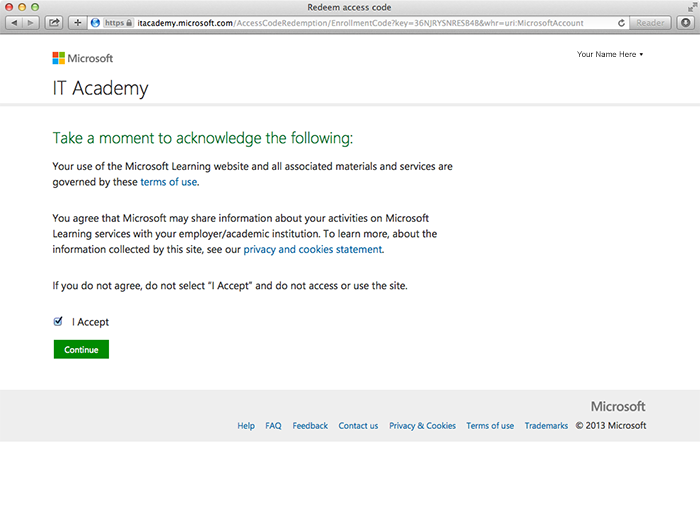 Lastly, you'll be asked to complete profile information, including your location and your contact email.  Click Save at the bottom when you're done.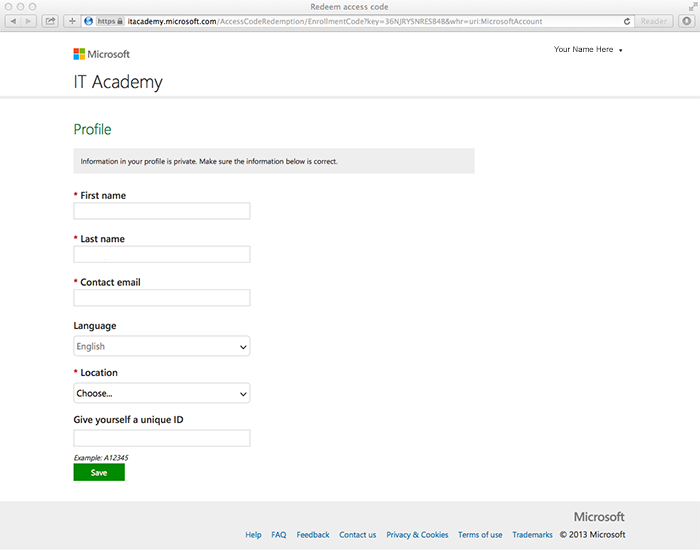 From there, you'll be directed to the welcome page: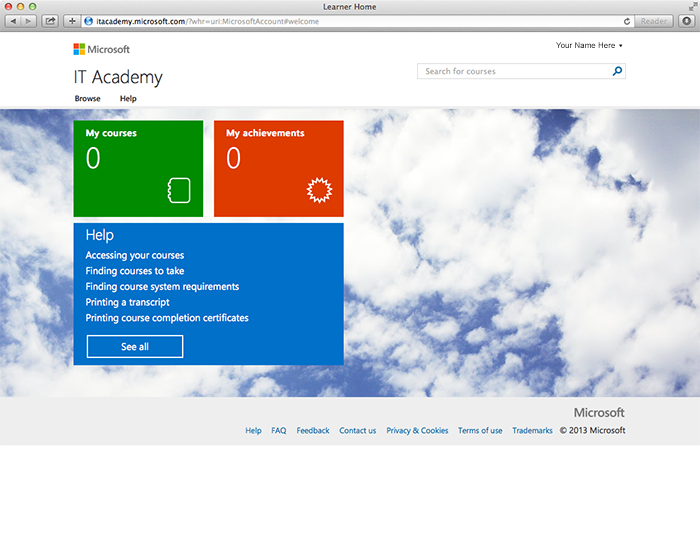 At this screen, you'll be able to:
See which courses are offered to you.
Customize your personal list of courses.
See which courses you've completed.
Print certificates after course completion.
Returning Users
Once you've signed in for the first time, you can access the site by clicking on the returning user link here.  You won't need to enter your library card as a returning user.
For Beginners
If you'd like a technology overview before jumping into Microsoft IT Academy, Microsoft Digital Literacy offers introductory courses on the internet, online safety, and computer basics.  No sign-in is required—you'll just need headphones or speakers.
Certification Test Centers
Once you've completed your courses, you can apply for Microsoft Certification at the following locations.  You will be responsible for any costs associated with testing.
Certifications include:
MOS (Microsoft Office Specialist)
MTA (Microsoft Technology Associate)
MCP (Microsoft Certified Professional)
Esprit Technologies, Inc. (formerly Productivity Point)
10020 East Knox Ave.Suite 500
Spokane, WA 99206
509-455-5054
Interface College
178 S. Stevens St.
Spokane, WA 99201
509-467-1727
New Horizons Computer Learning Center – Spokane
920 N. Argonne Rd.Suite 305
Spokane, WA 99212
509-328-8077