Posted on November 26, 2013 at 6:00 am
by Corrine W.
It seems like every year there's an easy to make pumpkin recipe that everyone seems to be trying. This year, I am making a Pumpkin Crunch Cake. Eat it hot or cold for a snack or (my favorite) with some butter pecan ice cream! Try it for yourself and tell me what you think.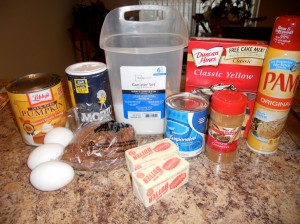 Ingredients:
1 box yellow cake mix
1 15-oz. can pumpkin puree (can pictured is larger)
1 12-oz can evaporated milk
3 large eggs
1 ½ cups sugar
1 tsp cinnamon
½ tsp salt
1 ½ cups chopped pecans
1 cup melted butter
Heat oven to 350 degrees F.
Grease bottom of 9″ x 13″ dish. Check the measurements printed on the bottom of the dish if you're not sure it's large enough.
Mix pumpkin, milk, eggs, sugar, cinnamon, and salt ingredients.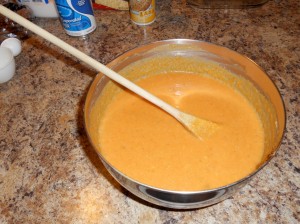 Pour mixture into greased pan. Sprinkle dry cake mix over pumpkin mixture. It should cover all the pumpkin.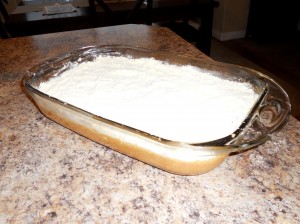 Chop up pecans. Sprinkle pecans over cake mix.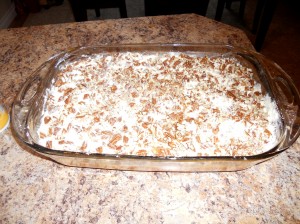 Melt the two sticks of butter in the microwave. Cover the bowl in the microwave to avoid splatters.
Drizzle melted butter over pecans until all of the cake is covered.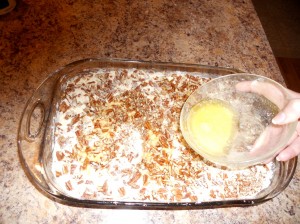 Put in the oven and bake 50-55 minutes. When a toothpick comes out of the center clean, your pumpkin crunch cake is done.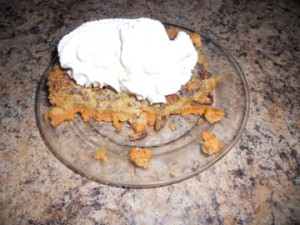 No Comments