Posted on February 11, 2014 at 6:00 am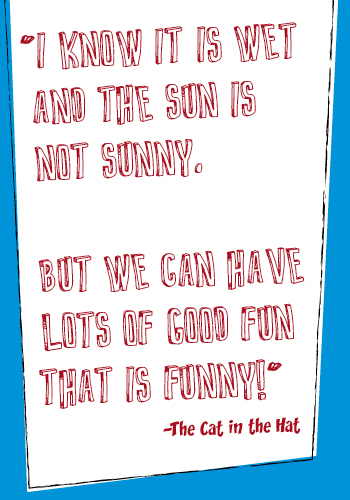 Theodore Geisel, (Dr. Seuss), wrote The Cat in the Hat because he was worried that children were not learning to read. Publisher William Spaulding, challenged him to "Write me a story that first-graders can't put down!" with the caveat that he had to limit the book's vocabulary to no more than 225 different words.  Since The Cat in the Hat was first published in 1957, children have been learning to read with Dr. Seuss.
At Spokane County Library District, we celebrate reading every chance we get, and that's why we are throwing a 110th Birthday Celebration for Dr. Seuss. In honor of America's favorite reading teacher, we have planned "lots of good fun that is funny."
We have invited local celebrity readers, including a Spokane Valley firefighter, Spokane Indians Mascot Otto (and friend), Spokane Valley Mayor Grafos, and the entire Lilac Royal Court. These celebrities will be sharing their favorite books throughout the day. You'll also be able to meet and take a picture with the Cat in the Hat, Thing 1, and Thing 2. We'll be making picture frames, hats, playing games, and eating cupcakes, of course—it is a birthday party!
Join the festivities on Sunday, March 2, from 1pm-5pm at the Spokane Valley Library.
(You and the kids can't make it to the big party? Drop into one of other open libraries on Sunday, and you'll be able to make something fun there as well.)
Tags: community, events, young learners
6 Comments