Posted on November 10, 2013 at 1:19 pm
April 23 is a day famously connected to books throughout the world. It's the UNESCO International Day of the Book. It is Shakespeare's birthday. It's also the day Miguel de Cervantes, author of Don Quixote, died. More recently, April 23 is World Book Night, which exists to bring books to light-readers and non-readers (with a focus on adults and teenagers), free of charge. Authors, publishers, and volunteers on the ground waive royalties, donate costs and time, and pass out the books by hand.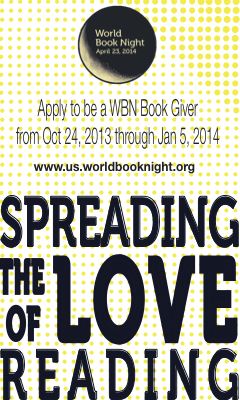 Every year, the folks at World Book Night select a new list of books to give away: newly published books mixed with established classics. You can check out the 2014 list here.
Intrigued? You can apply to be a book giver. You'll select your top three favorite books from the list, and receive 20 copies of one book to distribute on April 23. Spokane Valley Library is one of the locations you can select as your pick-up location. You can apply through January 5, 2014.
This event is all about spreading the love of reading person-to-person, conversation by conversation. You can read more about World Book Night at the official program website.
No Comments