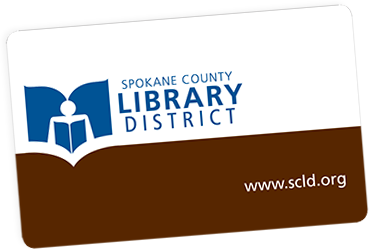 Free library cards are available for all residents and property owners in unincorporated Spokane County and the cities  and towns of Airway Heights, Cheney, Deer Park, Fairfield, Latah, Medical Lake, Millwood, Rockford, Spangle, Spokane Valley, and Waverly.
or
Fill out an application form at any Spokane County Library District library
Bring photo identification with your name and current address
If you're under 18, obtain your parent's or guardian's signature
It's that simple.
Free library cards are also available to residents of the City of Spokane and Liberty Lake through a reciprocal agreement. Please visit one of our libraries for more details and to register.
A PIN (Personal Identification Number) must be used with your library card number to make online requests for materials, check your library account information, and access databases from home. You may choose your own PIN when you register or by visiting the checkout desk at any of our libraries.
If you live in an area other than those described above, ask our staff about options for a paid non-resident library card. The annual cost is $105 per household.
Reciprocal Agreements
Through reciprocal agreements, the resources of the Spokane Public Libraries and the Liberty Lake Municipal Library are available to Spokane County Library District residents and residents of either city can have a Spokane County Library District library card for free.
If you obtain a library card under this agreement, you'll be entitled to all library privileges except interlibrary loan, and remote access e-sources such as digital resources, and downloadable audiobooks, eBooks, and music.
Some Important Points…
You must follow each library system's application process to obtain its library card. If you want to borrow materials, you'll need to use your card for that library system.
Checkout periods, overdue charges and some other policies may differ.
To avoid potential overdue charges, materials should be returned to any library in the system from which they were borrowed. If materials are returned to the other system's library, they'll be routed properly but may not arrive by the due date.
Materials placed on hold must be picked up at one of the owning system's libraries.
Reciprocal borrowing privileges do not extend to non-resident cardholders.
Customers with long-overdue accounts referred to a collection agency – by any system – may not obtain a library card until their account is cleared.
If you are a resident of Spokane County Library District, visit the Spokane Public Libraries website or the Liberty Lake Municipal Library website for more on how to sign up for a card with your city.
If you are a resident of the City of Spokane or the City of Liberty Lake and wish to get a Spokane County Library District card, click here.